Dr. Larisa Ivascu
Chair – Scientific Council
Professor at Politehnica University of Timisoara–Romania, Faculty of Management in Production and Transportation
Read more
Dr. Larisa IVASCU (Ph.D. in Management; MBA; B.A. Software Engineering) – is a professor at Politehnica University of Timisoara – Romania, Faculty of Management in Production and Transportation, Department of Management, having more than 15 years of experience in programming, teaching and research. Dr. Larisa is the Chair of the Entrepreneurship Office of Politehnica University of Timișoara and Director of Research Center in Engineering and Management. Dr. Larisa has extensive academic work: published seven books and over 190 academic research studies or articles, being also part of international research bodies: Vice-President of the Society for Ergonomics and Work Environment Management, Member of World Economics Association (WEA), International Economics Development and Research Center (IEDRC) and Academic Management Society of Romania. Dr. Larisa is a key-speaker to various international and national events, being part of the national and international entrepreneur and academic projects.
Dr. Daniel Barbu
Prof. univ. dr at Faculty of Political Science,  at the University of Bucharest
Read more
Dr. Daniel Barbu (Ph.D. Phil.Habil. & Ph.D. Theol.) – Member of Academia Europea, Former Minister of Culture in the Romanian Government (2012-2013), member of the Romanian Senate (2012-2016) and President of the Permanent Electoral Authority (2017-2019). Professor of political science and social theology at the University of Bucharest, where he founded and chaired (1994-2000, 2002-2004) the Department of Political Science. Visiting professor at the University of Pittsburgh, the Ecole des Hautes Etudes en Sciences Sociales (Paris), the Central European University (Budapest), the Institut d'Etudes Politiques of Bordeaux and the Institut d'Etudes Politiques of Aix-en-Provence. Fulbright scholar-in-residence (2000, Jackson State University). Dr. Barbu authored books, among which: Byzance, Rome et les Roumains. Essais sur la production politique de la foi au Moyen Âge (1998), Die abwessende Republik (2009), Au cetăţenii suflet? O teologie politică a societăţilor post-seculare (2016) and Între timp. Amintiri din casa Cezarului (2017). He published over 150 articles in edited volumes and refereed academic journals such as Annales. Histoire, Sciences Sociales; Cités. Philosophie, Politique, Histoire; Revue Roumaine d'Histoire; Revue des Études Sud-Est Européennes; Studia Politica. Romanian Political Science Review etc.
Dr. Vasile Boari
Professor at Political Department, Babes Bolyai University from Cluj
Read more
Dr. Boari Vasile – (Ph.D. in Philosophy – 1978; M.A. in Philosophy – 1972) – Professor at Political Department, Babes Bolyai University from Cluj, teaching in university since 1972. Dr. Boari is the author of many books, numerous articles and other publications, being invited as key-speaker on various subjects in the field of politics, ethics and philosophy, Dr. Boari academic extensive work includes books as: New Europe in Search of Identity (2009); Philosophy and Politics (2009); Philosophy and moral condition of the city. A research on the problems of the city in ancient and modern philosophy (1991); The dialectic of the relationship moral conscience – political conscience. A Philosophical Perspective (1987); Introduction to political science. Part I. Areas of Political Science (1993); Introduction to the theory of political values ​​(1993); Political Theories of the Modern World (2000) Political Ethics (2000); Political Studies (2009) etc. Dr. Boari has been the coordinator and contributor to several well-known volumes: Romania after 20 years (2011); Intellectuals and Power (2011); Rediscovering the national identity (2010); Weighting Differences: Romanian Identity in the Wider European Context (2009); The use of Violence and Conflict in the three monotheistic religions: contemporary perspectives from Europe (2011); Living in truth. A Conceptual Framework for a Wisdom Society and the European Construction (2008); Constructing Religion and Conflict Studies in Europe (2011); Old Essence, New Flavors: Searching for Identity at National and European Levels (2009) European Identity Crisis. From the Soul of Europe to the Europe of Treaties (2008); The European Identity Crisis (2009); Religion as the foundation of a new ethical and political paradigm (2007); The relevance of ethics in the 21st century (2007) etc. Besides his academic extensive work, Dr. Boari has been an adviser for some of the key political leaders in Romania, known for his sharp predictions based on in-depth knowledge of human beings and society.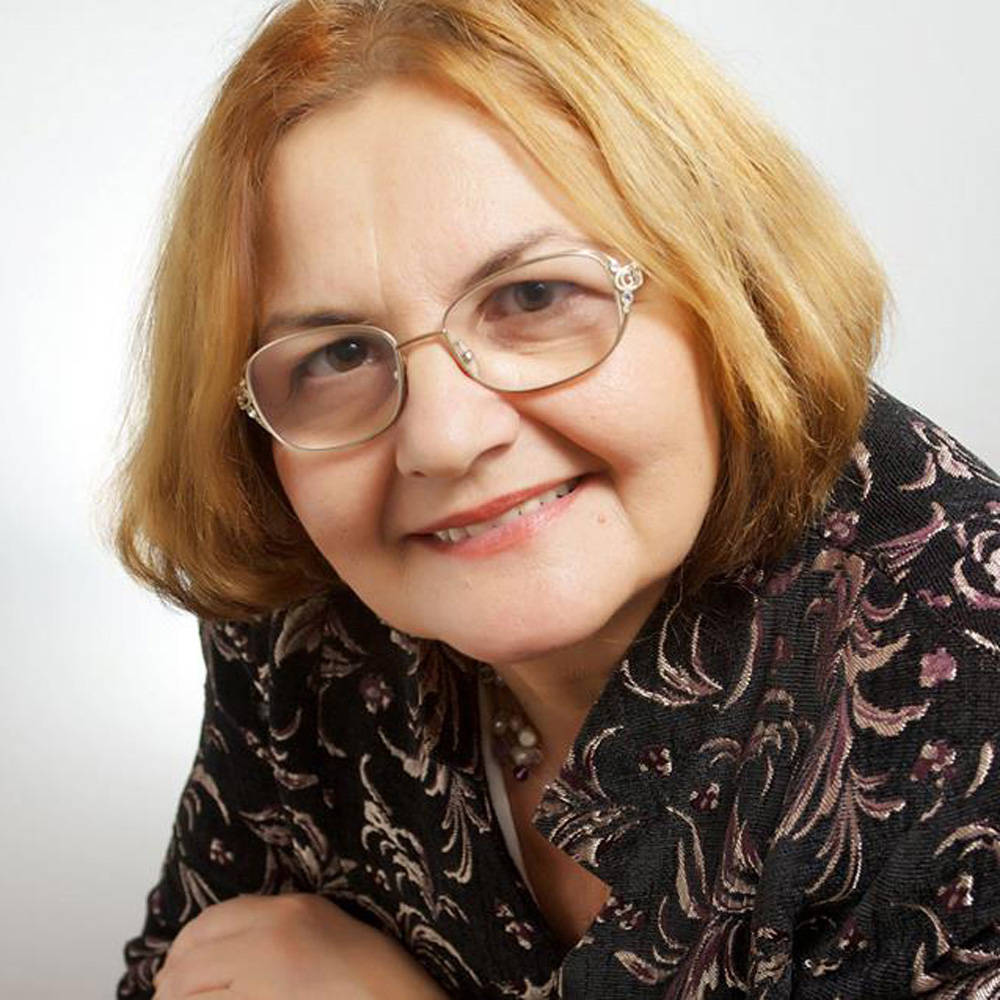 Dr. Mihaela Miroiu
Professor of Political Sciences in the Political Science Faculty at the National School for Political Studies and Public Administration 
Read more
Dr. Mihaela Miroiu – professor of Political Sciences in the Political Science Faculty at the National School for Political Studies and Public Administration (SNSPA), Bucharest – Romania, being the founder of the first Ph.D. Program in Political Science in Romania in 2000, the academic classes in Feminist Theories (1994) and the first M.A. Program in Gender Studies (1998).  Her research area encompasses the fields of political theory, feminist political theories, political ethics, post-communist transition, gender and politics.  Her work is focused on illiberal democracy in Eastern Europe (show-room democracy) and of what she calls: "room-service feminism" and "costless state feminism".  She is the author of 13 books.  Among them are: Thoughts of the Shadow: Feminist Approaches in Contemporary Philosophy (1995), Convenio. On Nature, Women and Morals (1996); Backward-Looking Society, (1999); Guidelines for Promoting Equity in Higher Education, (2003), Road to Autonomy: Feminist Political Theories (2004); Priceless Women (2006), Beyond Angels and Devils: Ethics in the Romanian Politics (2007), The Birth of Democratic Citizenship. Women and Power in Modern Romania (co-author with Maria Bucur, 2017). She edited and co-edited other 9 books, most of them on feminism, including a Feminist Lexicon (2002) and Contemporary Political Ideologies. Meanings and impact (2012). Since 2000, Dr. Mihaela Miroiu is the coordinator of the Gender Studies series at Polirom Publishing House. She has received the first National Price for her public activity against discrimination and equal opportunities (2005). She is playing a very active public role as a feminist and political analyst in the Romanian civil society and mass-media.
Dr. Ben-Oni Ardelean
President of Political Leadership Academy
Read more
Dr.Ben–Oni Ardelean(Ph.D. in Political Science–2009; Ph.D. in Theology–2010; B.A.–1998)–Member of Romanian Parliament (2012–2024), has extensive academic and political experience. His present and the past political position include Vice–President of Chamber of Deputies in the bicameral Parliament of Romania(2017–2018); Senator of Romania (2012–2016) & Secretary of Romanian Senate (2016); Vice–President of National Liberal Party (a conservative party of Romania affiliated EPP / CDI); Deputy Chairman of the Committee for Foreign Policy(2016–2020); Member of NATO PA; Member of the Council of Europe PA; Member of theSEECP PA etc. Living in Timișoara, the well–known city where the anti-communist Revolution started in Romania bringing freedom and democracy in this eastern–European country in 1989, he represents the western–Romanian region of Timiș in the Romanian Parliament since 2012. Right after the Revolution against the dictatorial regime of 1989, he became active in coordinating numerous charitable and humanitarian projects, providing supplies and care for schools, hospitals, fire–stations, camps, remote areas population, etc., in cooperation with North American and Western European's short mission teams and NGOs, operating in Eastern Europe. He was soon recognized as a leading figure for human rights and freedom, organizing and speaking in conferences, televised debates, and talk shows, promoting a new leadership model among conservatives for post–Communist countries and around the world. He is the author of several books and numerous academic articles.
Dr. Ben, as he is nicknamed by friends, is highly preoccupied with supporting those in need, helping others to help themselves, motivating people to live a life of purpose, love and compassion/
Dr. Otniel-Ioan Bunaciu
Dean & Professor at the Department of Baptist Theology in the University of Bucharest
Read more
Dr. Otniel-Ioan Bunaciu (Ph.D.; Dr. Habil; M.Sci; B.A.) – Dean & Professor at the Department of Baptist Theology in the University of Bucharest (2003-), Vice-President of the Baptist World Alliance (2020-), President of the Romanian Baptist Union (2007-2015), President of the European Baptist Federation (2013-2015), Founder & President of the Providenta Foundation which runs "Project Ruth" (the largest school in Romania working with roma ethnics, that supports children from underprivileged backgrounds, helping them with education, food and wellbeing), Board Member of World Vision International, Board Member of IBTC-C Amsterdam, Member of CNADTCU (Romanian academic accreditation independent agency), are just some of the many national and international positions held during the years in well-known and global academic, denominational and charity institutions and organizations. Dr. Bunaciu earned his engineering degree during the communist time in Romania (1979-1984), and soon realized that his faith as a Baptist was a barrier in pursuing a successful carrier under the communist regime which considered his Christian commitment as being an "unhealthy background". The opportunity to study theology at the University of Oxford (Regent's Park College) was both a miracle and a great opportunity. After returning to Romania from Oxford, he earned his Ph.D. from the Protestant Theological Institute – Cluj-Napoca, meanwhile becoming involved in many projects in the academic, denominational and public sphere. He was invited to be a commencement speaker by two Universities in the USA (Palm Beach Atlantic University & Johnson University) and is a key speaker in many public gatherings, conferences, forums around the world. Dr. Bunaciu taught over the years in large universities in various countries (United States, China, Russia, Austria, Moldova, Czech Republic, Belarus, Ukraine, Kazakhstan, Armenia etc.) and is a well-published author with many books, articles and academic studies. His current interests are in transformational social projects, initiatives to develop leadership for various spheres of society in order to generate environments of peacemaking and reconciliation, using faith and values as factors of unity and progress in society.
Bogdan Banu
Director for Program Management for the GlobalConnect Division at Meridian International Center
Read more
Bogdan Banu 
M.A. Political Campaign Management, Graduate School of Political Management, George Washington University
B.A. in International Relations, Brigham Young University
Graduate Certificate, Political Action Committee (PAC) Management, Graduate School of Political Management, George Washington University
Certificate, Professional Grant Proposal Writing, The Institute for Communication Improvement, Grant Institute
Training Certificate, Graduate School of Business, Stanford University
 Bogdan Banu serves as the Director for Program Management for the GlobalConnect Division at Meridian International Center, a premier global leadership organization and public diplomacy center that connects leaders through culture and collaboration to drive solutions for global challenges located in Washington, DC. Banu oversees the division's overall relationship with U.S. Embassies around the world, private and corporate partners, and other governmental entities to ensure the successful implementation of its short-term study tours and other people-to-people and virtual exchange programs. He also serves as the Program Director for the Central and Eastern Europe Journalist Fellowship Program, a U.S. Embassy Paris funded exchange, designed to strengthen local and regional press and to expand and improve the sustainability of citizen-generated media in Central and Eastern Europe; for the U.S. Speaker Programs for India, Brazil, North Macedonia and Europe; and of the Department of State Bureau of Oceans and International Environmental and Scientific Affairs' Science Envoy Program. Previously he served for eight years as the Program Director of the U.S. Congress – Korean National Assembly Exchange Program, Meridian second longest-running exchange program, which for over 20 years has brought together Congressional interns and students from the two countries for a unique opportunity to broaden their understanding of the U.S.-Korean bilateral relations; for the White-House sponsored Young Transatlantic Innovation Leaders Initiative (YTILI) and for other highly customized programs for private clients including Visa Corp. and Cargill. He also managed all the international development grants awarded to Meridian by the U.S. Department of State and USAID including projects in Iraq, Iran and West Bank. As a Program Officer, he implemented over 200 short-term professional exchanges for foreign officials and dignitaries coming to the U.S. as part of the International Visitor Leadership Program or as guests of various U.S. Embassies abroad. In addition to his work at Meridian, Banu serves from time to time as an International Election Observer with the OSCE – the Organization for Security and Cooperation in Europe and has participated in observation missions in Belarus, Romania, Ukraine, and the United States. He is a frequent presence on Romanian media having appeared both as a guest and as an election expert on Antena 1, Antena 3, Digi 24, Europa FM, Pro TV, Romania's National Radio and TV Broadcasters – TVR and TVR Internațional and also on TVR Moldova.
Banu is the president and founder of Romanians of DC a non-governmental, not-for-profit organization working to bring together the Romanians and Moldovans living in the greater Washington, DC area and to promote Romanian culture and traditions to a wider American audience.
Banu served for over 10 years as President of the Association of Students and Young Professionals from Romania in the DC area, better known as ASTROM, the largest Romanian-American association in the Nation's Capital. In this capacity he has overseen the development and implementation of some 450 professional and cultural activities and programs aimed at building and promoting the Romanian community in the Washington, DC area. This activity has also given him the unique opportunity to meet and interact with officials at the highest levels from Romania and the Republic of Moldova. As President of ASTROM, in 2015 he was able to obtain the first official recognition of the Universal Day of the Romanian Blouse when the Mayor of Washington, DC issued an Official Proclamation which declared June 24th as the Day of the Romanian Blouse in the city. The event was marked by over 200 Romanians dressed in folk costumes who gathered in front of the White House – the largest such gathering of Romanians ever.
Previously, he served as Communication Director with CORA – the Congress of Romanian Americans, an organization active from 1991 until 2004 and dedicated to promoting the interests of the broader Romanian-American community in the U.S. and to further the cooperation between the governments of the United States of America and Romania. Banu was also the Founding President of Club Romania, one for the first Romanian student organizations in the U.S. at his alma-matter Brigham Young University and has served in the board of directors and as an advisor with a number of other Romanian-American organizations.
Banu has a Master's in Political Campaign Management from the George Washington University's Graduate School of Political Management and a B.A. in International Relations from Brigham Young University. He also holds a Graduate Certificate in Political Action Committee (PAC) Management from the George Washington University, a Certificate in Professional Grant Proposal Writing from the Institute for Communication Improvement, Grant Institute and a Training Certificate from Stanford University's Graduate School of Business.
Dr. Daniel Fodorean
Director of European Leader Formation Network, Trainer of European Leadership Forum & Dean of Theological Baptist Institute – Bucharest
Read more
Dr. Daniel Fodorean (Ph.D.; M.A.; B.A.) – Director of European Leader Formation Network, Trainer of European Leadership Forum & Dean of Theological Baptist Institute – Bucharest. Dr. Daniel was the founder of "Champions for Life" School in Constanta, being also during the years an associate professor at Liberty University, USA and Titu Maiorescu University – Law Department. With over 20 years of holding different leading positions, teaching and speaking in academic and non-formal training programs for leaders, author of numerous academic articles and studies, Dr. Daniel's desire is to see a new generation of leaders being trained for the challenges ahead.
John F. Sandoz
President of Adaptive Strategies Consulting, LLC
Read more
John F. Sandoz is President of Adaptive Strategies Consulting, LLC, which supports thought leadership in strategy, concept development, and red teaming activities.
During his career as a Naval Special Warfare officer, he served in the Asia Pacific, Europe, the Middle East, Latin America, as well as a series of senior military staff.  He commanded Underwater Demolition Team TWENTY ONE, commissioned SEAL Team FOUR, and commanded Naval Special Warfare Group TWO, the parent command of East-coast Naval Special Warfare forces.  He completed his active duty service as Assistant to the Director of Naval Intelligence, retiring in the rank of Captain. Subsequently, as a research staff member with the Institute for Defense Analyses (IDA) he led Red Teams supporting human-in-the-loop experiments.  As Vice President of Hicks and Associates, and Deputy Director of the Defense Adaptive Red Team he performed Red Team analyses of Combatant Command key operational problems.  As president of Adaptive Strategies Consulting, he supported the IDA Joint Advanced Warfighting Division, the U.S. Institute for Peace, and is currently supporting the Navy staff's concept development work.
He is the co-founder and current Chairman of the Institute for Faith-Based Diplomacy, a non-profit organization dedicated to preparing next generation faith-based peacemakers to facilitate leader bridge building to resolve identity-based conflicts.
He leads a prison discipleship ministry for incarcerated men and is the author of "Becoming a Disciple of Jesus: Equipped to do the Works of Faith."
He holds a BA in Business Administration from the University of Washington, an MBA from Marymount University, and is a graduate of the National War College and MIT Seminar XXI.
He and his wife Gabriela live in Falls Church, Virginia.
Radu Magdin
International analyst, consultant, and trainer
Read more
Radu Magdin is an international analyst, consultant, and trainer. He worked as an honorary advisor to the Romanian Prime Minister (2014-2015) and advised the Moldovan PM (2016-2017) on a range of strategic issues, from political strategy and communications to reforms implementation and external affairs. 
Radu is a NATO Emerging Leader with the Atlantic Council of the US (2014), a Forbes Romania Trendsetter (2014), and a Warsaw Security Leader (2015). Magdin, ECFR's associate expert for Romania, has a Ph.D. in Resilience to Russian Information Operations, and is a widely quoted analyst by global media; he teaches, since 2019, with Romania's SNSPA, "Global Competition and Strategic Communications" respectively "Global Communication Campaigns", courses with a special emphasis on great power competition and its impact on global players and international communications.  
Radu, a trainer/facilitator/ coach in more than 10 countries, is co-author of the Naumann Foundation's 2021 Playbook on Liberal Leadership and Strategic Communications in the Covid19 Era – http://magdin.com/leadershipstratcom/playbook.pdf. 
His fields of expertise at the Academy include Leadership Resilience, Strategic Communications, Global Empowerment respectively Power in Boards and Organisations. Radu's global project and a personal cause, ELI (Empowerment and Leadership Initiative), is dedicated to his daughter, Elizabeth.
Dr. Chung Hong Key
Founder of Zion Presbyterian Community in Bucharest
Read more
Chung Hong Key (M.A. at OCMS, Oxford, UK – 2003; B.A.) – played an important role during the years in building bridges between South Korea, Europe, and the USA. He organized many leadership conferences, forums, and debates, with distinguished professors and key-political leaders from around the world. Mr. Chung is also the founder of Zion Presbyterian Community in Bucharest (1994), "Ambassadors for Christ" – South Korea (1884), equipping local and national leaders, through various non-formal programs, encouraging leaders to get involved in inter-cultural and international experiences, public life and politics.
Alin Vrancila
Chief Academic Office at Multnomah University and the Co-founder of Ready for Online
Read more
Alin Vrancila is the Chief Academic Office at Multnomah University and the Co-founder of Ready for Online
(
w
w
w
.
r
e
a
d
y
f
or
on
l
i
n
e
.
c
om
). He teaches residentially and online and has been doing that for the past 10 years. Former CRM Manager and Tech Consultant, Alin earned his B.S. in Computer Science and Marketing, his M.A. in Intercultural Studies and he is currently a Doctoral Candidate in Oxford, UK. His research focus is Online Education, specifically focused on developing a new instructional design paradigm for online learning.
Alin is actively involved in community development work in South Sudan and is the CEO of Grain for Pain 
(
w
w
w
.
g
r
a
i
n
f
or
p
a
i
n
.
c
om
) a Non-profit organization active in Uganda and South Sudan.
Together with his wife Dianne, they live in Portland, Oregon and they have three children, Josephine, Kate, Isla Joy and Christopher Jameson.
Areas of expertise:
Intercultural and Cross-Cultural Studies
Leadership – Executive Leadership Coaching
Action Research and Research Methods
Digital Literacy
Tim Marian
Portfolio Manager at Morgan Stanley
Read more
Tim Marian is a Romanian-American who currently advises Companies, Institutions, and High Net-Worth Families as a Portfolio Manager at Morgan Stanley.  He began his career at Merrill Lynch at the age of 21 and transitioned after four years to a Vice President role at J.P. Morgan & Co.  His skill set encompasses complex Financial Analysis and Planning, a mastery of Alternative and Structured Investments, Economic and Technical Analysis and most importantly the ability to envision, compose, and execute complex financial projects.  His educational background consists of a bachelor's degree from Queens College, upon completing the educational requirements at Emory University and Yale School of Management he holds the designations of Certified Financial Planner™ and Certified Investment Management Analyst™, and is currently enrolled as a Graduate Student at Yale University's School of Management.  He currently resides in the United States while often returning to his hometown of Zalau, Romania with his family.
Dr. Daniel Dumitru Ene
Advisor for international relations and international cooperation in the field of civil nuclear energy at the Nuclear and Radioactive Waste Agency
Read more
Dr. Daniel-Dumitru Ene (Ph.D., M.A., B.A.) earned his doctorate in International Relationships at SNSPA – Bucharest, in the field of Nuclear Diplomacy. His area of expertise is mainly in diplomacy and energy. Presently he is an advisor for international relations and international cooperation in the field of civil nuclear energy at the Nuclear and Radioactive Waste Agency (ANDR – a national point of contact for Romanian institutions operating in the nuclear field with the European Union, the International Atomic Energy Agency (IAEA) and other international organizations). During the years he served as an Advisor to the Minister of Economy, Energy and Business Environment, Advisor to the Minister of Foreign Affairs, and Chief of Staff for the Deputy Chair of Romanian Parliament.
Silviu Gabrile Szentesi
Economist and professor at Aurel Vlaicu University
Read more
Silviu Gabriel SZENTESI, age 59 years, marketing scholar, Current position: Professor, Faculty of Economics, Aurel Vlaicu Univesity, Arad and Professor for Business Communication and Negotiation at West University Timișoara.
Education and training: 2018 Habilitation degree in Human Sciences – Communication from- Paul Valery   University Montpellier 3 France, 1992-1998 Ph.D. in Economics with a thesis about Economic –Ecologic balance modeling West University of Timisoara., Faculty of Economics, West University of Timisoara; 1983-1988 Career path:2016- present Director of the Institute for Research in Humanistic and Social Sciences; 2012-2013 Vicepresident of National Authority for Scientific Research and Innovation (NASR);  2010-2012 Head of Economic Research and Business Consulting Center, Aurel Vlaicu University, Arad, 2002-present Professor, Aurel Vlaicu University, Arad, 1999-2000 Ph.D. Associate Professor and Dean of the Faculty of Management, Emanuel University, Oradea, he published 51 papers and extended abstracts, 27 books and 3 chapters of books, Professional experienced in the topic of the project: Coordination and participation at research study and projects: Grant manager CNCSIS PN-I-ID-PCE-2007-2010 according to contract no. 345/10.2007 on issue Development of a management model for investment projects in order to achieve the economic-environmental balance; 2016-2019 member in ProjectPNIII-P2-2.1-PTE-2016-0217, Financing Contract no.28PTE / 06.10.2016, Demonstrative installation for innovative melting hemp technology.List of the most significant scientific publications: Marketing – Explanatory Dictionary –coauthor of an international collective, published by Academy of Romania (2003).1. Silviu Gabriel Szentesi (2017), Dan-Cristian Dabija, Nicolae Al. Pop, Silviu G. Szentesi, A Customer-oriented Perspective on Retail Brand Equity in the Fashion Industry, Textile Industry Scientific Magazine n.2 February 2014 Bucharest; Factor impact 0.475), Silviu Gabriel Szentesi, Lavinia Denisia Cuc, Andrea Feher and Paul Nichita Cuc, Does COVID-19 Affect Safety and Security Perception in the Hospitality Industry? A Romanian Case Study (2021). Lavinia Denisia Cuc, Corina Pelau,  Silviu-Gabriel Szentesi și Grigorie Sanda, The role of green marketing on the consumers' intention to buy green products in the context of the green deal. Economic Amphitheatre- Food Chains transformation in the context of EU Green Deal Strategy (2022).